About Lanyard for visitor Pack
High-quality Lanyard for visitor Pack neck strap with a safety breakaway release and plastic clip. The lanyard is light and comfortable to wear. Universal lanyards with printed text staff can be used for meetings, teachers, tours, events, businesses, cruises and more.
Breakaway lanyards are a safe option for your employees, your students, or your customers. Breakaway lanyards are perfect for someone who works with kids, near machinery or office equipment or is out-and-about while wearing their lanyard.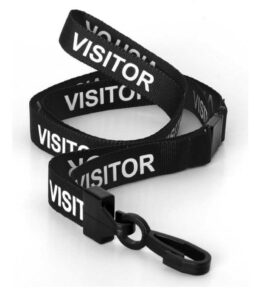 Staff lanyards by Cardbuy.in are the cost-effective way to match your corporate. Color or brand identity this is ideal if you're on a restricted budget or if you are sourcing lanyards at the last minute. Used to hold identification badge holders, keys and whistles.
We offer a wide range of colors to choose from, and all our lanyards are compatible with all cardbuy.in branded plastic ID card holders that are sold separately. Click on our brand name to see our full range of ID accessories on cardbuy.in.
Made from durable polyester – Includes.
A safety breakaway release – Plain Color Stock Lanyards with printed text as pictured – Print on both sides – Size: Length including the clip 51cm – width 1.5cm – Strong j-hook plastic clip.