Overview: Marvel Beasty Buds CA
The Reconnect Marvel Beasty Buds CA BT earphones Series 100 at cardbuy.in are designed in a way that they fit the shape of the ear snugly. These wireless earphones have Bluetooth V4.2 and can connect to two phones simultaneously.
They also come with an in-built mic for calls and activating Siri, Google Assistant or Alexa with a single touch! Don't compromise on the music when you go for a run; these wireless BT earphones are easy to fit, light and compact. Get these especially if you have friends like the Falcon and Bucky who love making you run.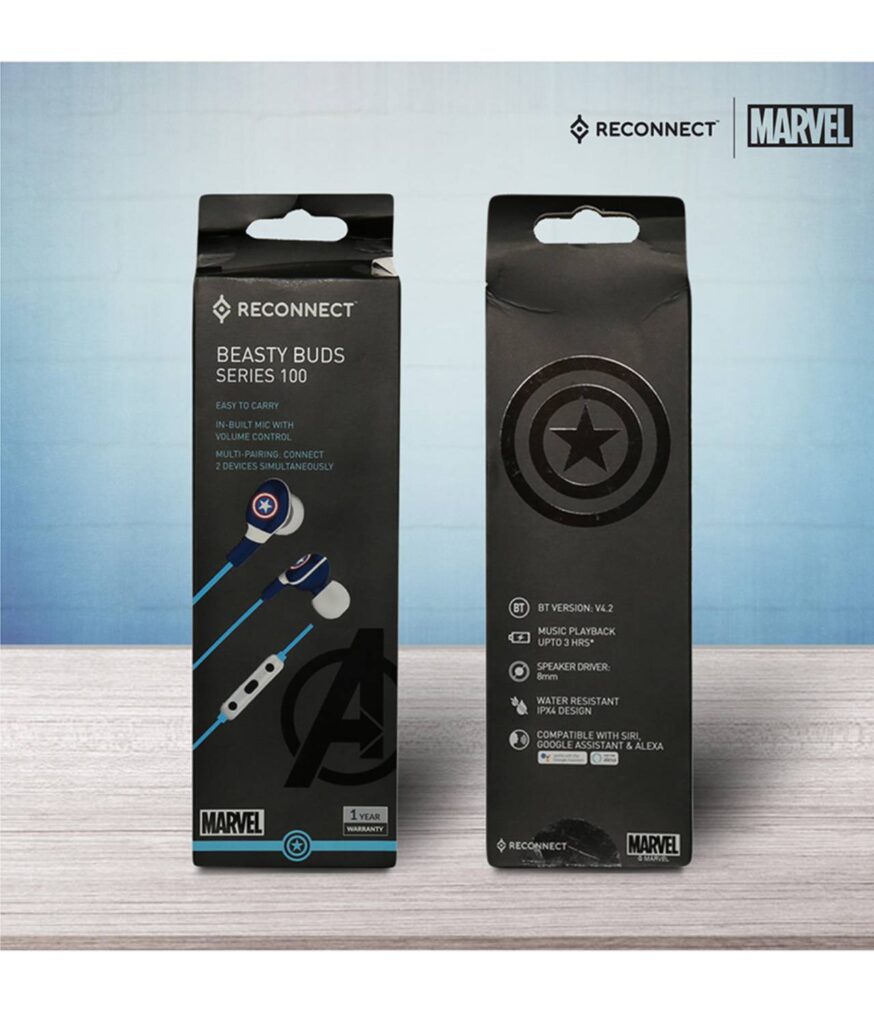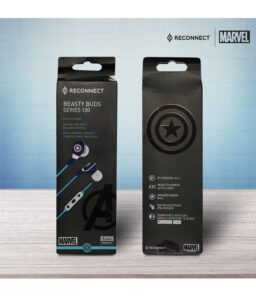 About Captain America?
Captain America was designed as a patriotic super soldier who often fought the Axis powers of World War II and was Timely Comics' most popular character during the wartime period. The popularity of superheroes waned following the war, and the Captain America comic book was discontinued in 1950, with a short-lived revival in 1953.
We cardbuy as an Captain America Fan brings you Official Merchandise of Reconnect Disney Marvel.
Also Checkout Our Entire Disney Marvel Series Merchandise
Headset Audio Related : Captain America Wired Headset
| | |
| --- | --- |
| Speaker Driver Unit | 8 mm |
| Microphone Type | Built-in |
Headset Connectivity
| | |
| --- | --- |
| Wireless | Yes |
| Bluetooth | Yes |
| Multipoint Connectivity | Yes |
| Bluetooth version | v4.2 |
Headset Controls
| | |
| --- | --- |
| In-line Controls | Yes |
| Phone APP-based Controls | Yes |
Battery Related
Physical Dimensions
| | |
| --- | --- |
| Sweat & Rain resistant | Yes |
| Water proof | Yes |
| Colour | Captain America |
In The Box & Warranty
Manufacturing & Packing Information
| | |
| --- | --- |
| Commodity name | Wireless Headset |
| Country of origin | China |