Double sided Transparent card holders
Double sided Transparent card holders Horizontal come in a wide range of styles, allowing you to find the one that works best for your card program. Holder options include:
Locking holders, to keep your cards securely inside the holder.
Clip on holders.
Slot punched holders to attach to lanyards or strap clips.
Rigid holders to prevent cards from bending.
Multi-card holders.
And much more!
Why Use Transparent card holder?
In this paragraph, I'm going to discuss a few reasons why Card Holder is important in ID card with card holder
Firstly, the only way to protect by actually using a Card Holder. Secondly, I think using card holder can be a fun way of putting cards around your pocket. There are, however, some people who will disagree.Thirdly, and most importantly, it is said that people tend to forget ID card it will solve the matter. Moreover, that ID Card is saved using a card holder when you put theory to practice. In conclusion, following up explanation, card holders is key to directly ID cards.
What is card holder?
Although ID cards are made from durable PVC or PVC/Poly plastics, they can still bend or twist too far and snap the card in half. They can also be scratched, damaging the card design. A Double sided Natural Card Holder provides a layer of protection for your cards, so they will last longer.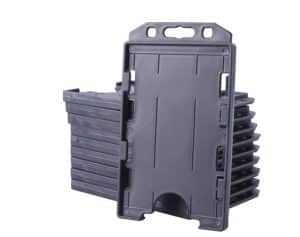 Description of Double sided card holder
Double sided card holders Hard Plastic Badge, Name Tag, ID Holders By Cardbuy.in ideal for holding two identity access cards and visitor passes for shows and conferences. You can also use this ID holder to hold everyday cards such as bus passes and travel cards.

External Size (outside) Dimensions: 88 x 60 mm.

Internal Dimensions 8.6 x 5.4 cm (Max insert size) Fits 2 CR80 credit sized cards *Card inserts are not included.

Two slot holes on the side ideal for a ball chain necklace, strap, or string thread and a middle slot for lanyard, key chain or retractable carabiner reel clip. Made with strong plastic material so the hanging slot holes will not break as they are made from strong materials.

Sold as a pack of 10 card holders. We offer a wide range of ID accessories to choose from, and all our lanyards are compatible with all Cardbuy.in branded plastic ID card holders that are sold separately. Click on our brand name to see our full range of ID accessories on Cardbuy.in.