A Luggage Tags personalized is always a good idea. Also known as Baggage Tag.
It can be for a company or group of people. Like conference, marriage party, your contact details can be printed directly on it. Moreover, if you happen to lose your bag, it won't be difficult to find you. We're also fans of pairing your luggage tag with a matching passport cover for the complete look.
From custom Baggage tags to tags that can track your luggage, we rounded up the coolest picks to help you spot your suitcase right away and get on with your trip.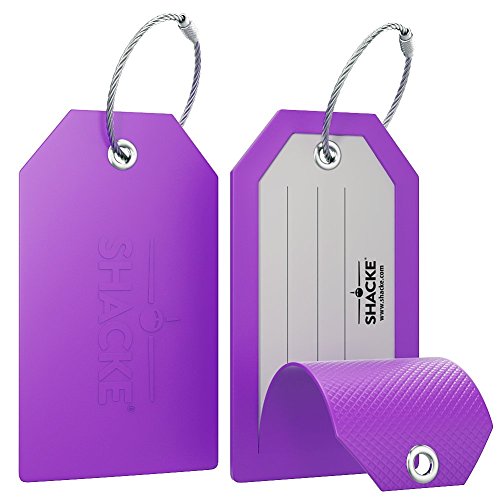 Things to Look for in a Luggage Tags
Your luggage tags should be several things: easy to read, easy to recognize, and really well attached to your baggage. After all, your tag is no use to you if it comes off before it's even reached the hold.
Easy to See Luggage Tags
If your tag isn't visible enough to be seen as it spins along the reclaim carousel, is it even worth having? Whether it's brightly coloured or just oversized, visibility is vital when it comes to identifying your luggage.
Easy to Read Luggage Tags
The other great reason for strapping some sort of ID on your suitcase is that it offers a great way to name your luggage as your own. Your tags should be able to clearly display your name, zip code, cell number, or other personal details.
Robust and Hard-Wearing
Let's be honest: airport handlers don't treat out bags with as much love and care as we'd like. Whether it's a designer suitcase or a much-loved old rucksack, they all get thrown onto the plane and off again without a second thought for their well-being.
This presents a risk for our luggage tags too. All that rough and tumble can lead to the demise of delicate tags, and thin or paper-based tags can easily become completely separated from your luggage.
Well-Secured Luggage Tags
The way you attach your tag is also important. Keeping your tag firmly fixed to your luggage is kind of the whole point, so forgo flimsy materials and stick to heavyweight attachment pieces like leather or even steel — and find options that are flexible but firm.
Completely Unique
Whether you want a 5" Darth Vader overseeing your belongings or something more low-key, individuality is important. Find tags that look a bit different, and don't just choose the one the suitcase manufacturer recommends — or you'll soon find yourself trying to locate your case in a sea of identical ones, all with matching tags on them.
Better Than Anyone Else's
Yes, we're going there! Sometimes you need to step up your game to remain unique. By this we mean, it's absolutely OK to show just how cool you are by securing a super-duper tech-heavy luggage tag to your case next time you travel
Smart luggage tags are an actual thing — and they can help you locate your luggage by using Bluetooth (or other mystical tracking devices) that let you keep tabs on your tags and luggage at all times.